Our Featured System includes our EXTREME POE Network Video Recorder. Simply run the CAT5 Cable from the back of the NVR to each bullet camera. All of our NVR Recorders have Motion Detection and 24 Hour Recording. View your system anywhere using the Internet, Cell Phone, or Tablet. Or PRO Series POE NVR records at full Real Time 30 Frames per Second so you will NEVER miss "a beat" when you are away from the business or home. The cameras included in this featured system are our TOP SELLING Indoor/Outdoor SUPER HIGH DEFINITION 4 Megapixel Infrared Bullet Cameras. These cameras have a 3.6mm 90 Degree Wide Angle Lens and are used to cover areas indoor and outdoor. For example, they will cover an entire room inside a business or home. It will cover wide angle area outside the business or home. We use these "field proven" cameras in thousands of our home and business surveillance applications.


CCTVSecurityPros High Definition IP Security Camera Systems offers a TRUE HD HIGH DEFINITION Solution. Our "EXTREME SERIES" High Definition Network Video Recorder provides high definition video of up to 4K. This 16 Channel "EXTREME SERIES" High Definition Recorder has a convenient BUILT IN POE (Power Over Ethernet), so both power and video is delivered to each camera over one CAT5 cable. This eliminates the need for power outlets at each camera location. Only a IP camera and a single CAT5 cable is required to install each camera.
The "EXTREME SERIES" NVR has a variety of features for professional surveillance recording. The "EXTREME SERIES" NVR offers both 1080p and 4K recording capability. The 16 Channel "EXTREME SERIES" Network Video Recorder has long video storage capacity - capable of MONTHS OF STORAGE. You can Record Real Time 30 Frames per Send per Channel - TV Quality. You can program personalized features such as 24/7 Recording or Motion Recording. Set up push alerts to alert you on motion. Easily retrieve your video by time and date or by event. View your HD Cameras over the Internet, cell phone, and tablets Anytime, Anywhere, and Anyplace.
Image quality and definition is clearly the main goal when evaluating cameras. IP Camera definition is measured in megapixels. Images from IP Cameras are digitalized immediately with no conversion or image degradation due to distance traveled over a network. The result is an enhancement in both video quality and speed. Digitalized video is the solution to "jerky" and questionable video quality in the past. Now you can watch your video in real time in HD. Whether using for the business or home you can be assured that you are achieving the best high definition video quality available.
The cameras included are our popular Indoor/Outdoor SUPER HIGH DEFINITION 4 Megapixel Infrared Bullet Cameras with 100 Foot Night Vision. These small sized bullet cameras delivers stunningly clear (1080p x 2) 4MP High Definition Video in both day and night. The built in Infrared Illuminators enable the cameras to see up to 100 Feet in total darkness. The standard 3.6mm captures wide angle view (approximately 90 degrees). The image quality is even more superior than 1080p! Compared to a 1080p 2 Megapixel Full HD Camera, our 4MP IP Cameras are two times more detailed. If looking for a superior bullet camera our CSP-IPB4 is one of the best choices for any high end application.
Installation of our Network Video Recorders and IP Cameras is SIMPLE and EASY. The NVR automatically detects our IP Cameras on your network. Plug in the recorder to your router and take advantage of Internet, Cell, and Tablet Viewing. Utilize our Quick Start Guide for fast installation and answers to your most common questions. We also have LIVE USA Technical Support available Monday to Friday. We are happy to answer any questions and assist you with your installation.
This COMPLETE High Definition IP Security Camera System comes with everything needed for complete installation. We provide you with easy installation instructions and Quick Start Guides. The System comes with a Satisfaction Guarantee, 3 Year Warranty, and FREE USA Technical and Installation Support.
This Complete IP Security Camera System includes:
(1) 16 Channel "EXTREME SERIES" High Definition Network Video Recorder (4K Ready) with Built-in POE (Power over Ethernet)
(1) 3 Terabyte Surveillance Grade Hard Drive (installed)
(16) IP 4MP Indoor/Outdoor Infrared Bullet Security Cameras with over 90ft Night Vision
(16) 100 Foot Premade CAT5 Cables or 1000 Foot Spool(s) (Optional)
(1) High Definition LCD Monitor is INCLUDED
DVD Instruction Manual and Quick Start Guide
Free Remote Viewing Software and Apps
Video Surveillance Warning Stickers and Aluminum Sign
_________________________________________
Network Video Recorder included:
Our CSP-XTRPOE16 High Definition Network Video Recorder is regarded as one of the best IP Camera Recorders on the market. It has exceptional functionality and is very easy to use. Our High Definition Network Digital Video Recorder offers unparalleled performance and supports up to 12MP HIGH DEFINITION IP Cameras. It has convenient BUILT IN POE (Power Over Ethernet). This eliminates the need for power outlets at the camera locations. It eliminates the need for a POE Injector or switcher. You only need only a POE IP camera and a single CAT5 cable to install each camera.

Our High Definition Network Video Recorder (CSP-XTRPOE16) has a powerful Fast Dual Core Processor that delivers stunning True High Definition Video Recording. View your security cameras anywhere, anytime, and anyplace over the Internet, Cell Phone, iPad, and most Internet capable devices. There are NO ADDITIONAL MONTHLY FEES. Only High Speed Internet is required.

One of the greatest functionalities of our Network Video Recorder is the built in DIGITAL ZOOM. Since the IP Security Cameras are 100% digital, you can digitally zoom in with INCREDIBLE DETAIL and QUALITY. "Get up and personal" like never before in terms of facial recognition and object identification. Zoom in definition capabilities are unsurpassed with this 100% digital IP solution.
View your live cameras ANYTIME, ANYWHERE, and ANYPLACE on your Phones, Tablets, and other Internet Enabled Devices16 Channel POE Network Video Recorder
16 Channel POE Network Video Recorder
16 POE Ports
Max 200Mbps incoming bandwidth
Up to 12Mp resolution preview & playback
Maximum 200Mbps Recording Rate
Dual Core CPU
16 POE Ports
H.264/MPEG-4 Dual codec decoding
Supports 4 SATA Hard Drives
Central Monitoring System
USB 2.0
Supports Multi-Brand Network Cameras; Arecont VisionTM, AXISTM, CanonTM, VivotekTM DynacolorTM, PanasonicTM, SamsungTM, SanyoTM, SonyTM & ONVIF
IP Search to automatically discover Cameras on the Network.
Built In Web Server, CMS (PSS) & (Smart Phone)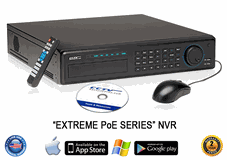 _________________________________________
IP Infrared Security Cameras included:
The cameras included with this system are SUPER HIGH DEFINITION 4 Megapixel Infrared Bullet Cameras. The cameras provide you with stunningly clear 1080p High Definition Video with an impressive 4 Megapixels. These camera can be used both indoor and outdoor, making them appropriate for a wide variety of professional applications. The built in infrared illuminators enable these camera to see UP TO 100 FOOT in 100% complete darkness!
Super High Definiton 1080p
4 MP
Infrared Bullet IP Camera
Indoor, Outdoor, Weather Proof
100 Foot Infrared Night Vision
Standard 3.6mm Lens
Indoor/Outdoor Weatherproof
_________________________________________
Cables included:
IP Cameras are installed easily with CAT5 Cable. Our HD IP systems offer Plug and Play Installation. All CAT 5 Cables and Connections are included with this system. You may run each camera up to 328 Feet (or more with POE Injector or POE Extender).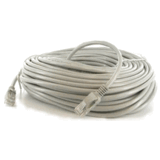 _________________________________________
Surveillance Sticker and Signs Included: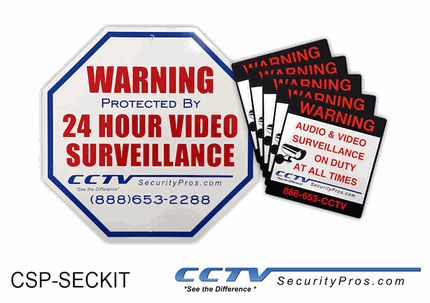 _____________________________________________________
RECENT TESTIMONIALS

"I have the CSP-IPB3 as well and this version is definitely slightly better in terms of definition."
Ryan S.
5/5/17

"This is my go to camera for my outdoor applications every time."
Adam T.
5/31/17

"This camera is heads and tails above a similar camera that I purchased from your competitor. You have a new customer."
Dean A.
6/10/17

"Great product. Don"t hesitate to order it. Works great!"
6/17/17

"Wanted to comment on how great your CSP-IPB4 cameras are. I am very happy with the clarity."
Paul S.
7/2/17

"Worked with you guys on several systems and it has been a real pleasure."
Jamie D.
7/19/17

"Nothing but positive feedback from my customers - very happy. I have referred many people to your website and appreciate your service."
Wanda D.
7/28/17

"Great cameras, great definition. Look forward to doing more biz in the future."
Ray M.
8/16/17

"Love the new system. Those small bullet work absolutely amazing. Perfectly Clear!"
Charles W.
9/7/17

"I had ordered a system online previously but had a VERY bad experience. This was totally opposite. From start to finish your staff was very polite and helpful. They actually answer the phone every time which is a huge plus. I guess you get what you pay for."
Derrik D.
9/16/17

"This camera was a great recommendation. Thank you Tim."
Ronald D.
9/18/17
NVR FEATURES
4K Ultra High Definition
16 PoE Camera Inputs
Remote Viewing – No Monthly Fees
H.265 High Video Compression
200 Mbps Incoming Bandwith
HDMI and VGA Display Output
4 Hard Drive Bays
CAMERA FEATURES
4 Megapixel IP Camera (2688×1520)
2.8mm Lens (110° Wide Angle View)
Up to 100ft Infrared Night Vision
H.265 Video Compression
Weatherproof - Indoor/Outdoor (IP67)
Wide Dynamic Range - WDR (120dB)
Power Over Ethernet - PoE
Measurement: 6.48" L x 2.76" W x 2.82"
Approximate Distances:
Identify (Up to 20ft)
Recognize (Up to 43ft)
Detect (Up to 207ft)
Write a Review
CCTV Pros IP security camera system Fantastic!

If you need a quality system for your business this will do it. We are extremely satisfied with both your products and service.

were were pleased with the overall performance of this system and the cameras seem very clear. good so far.