Use our 1080p IP Security Cameras and 4K IP Cameras with this Network Video Recorder. Take advantage of Megapixel 1080p and 4K Video with Superior Digital Zoom Capabilities to identify objects and subjects that were lacking with older technology. Use our IP Security Cameras located on the IP Security Cameras tab on our website. Our IP Security Cameras that are compatible with this Network Video Recorder begin with the model number "CSP-IP". IP Security Cameras are set up with one ethernet cable that runs form the the camera to the Power Over Ethernet (POE switch sold separately) that is connected to the NVR - it is that simple! All our NVR's are "recognized" as the very best in the industry and provide you with PC, Cell Phone, and Tablet Live Remote Viewing! We back up our NVRs with a Satisfaction Guarantee, 3 Year Warranty, and Free Unlimited Technical Support for the life of the product.


What is a Network Video Recorder? An NVR (Network Video Recorder) is an IP (Internet Protocol) based device that connects multiple IP security cameras simultaneously to a centralized network recorder. NVR's can be managed remotely via LAN or over the internet, which gives you greater management flexibility than conventional DVR solutions. 

An NVR is similar to a DVR.

The main difference between an NVR (Network Digital Video Recorder) and a DVR (Digital Video Recorder) is that with a DVR, the camera video is encoded and processed from analog to digital by the DVR. With an NVR, video is encoded and processed to digital right at the IP security camera, and streamed to the NVR for storage or remote viewing. 

In a digital IP surveillance system, images from a network camera are digitized once and they stay digital with no unnecessary conversions and no image degradation due to distance traveled over a network. In addition, digital images can be more easily stored and retrieved than in cases where analog systems are used. 



CCTVSecurityPros (CSP-EXTREME32NVR) is a 2U Sized Network Video Recorder with a Dual Core Processor and Super High Definition Recording & Playback. Our "EXTREME" High Definition Network Digital Video Recorder offers unparalleled performance and supports 8MP HIGH DEFINITION IP Cameras. CCTVSecurityPros "EXTREME" Network Digital Video Recorder enables you to view, record, and playback your IP security cameras. 
 It offers up to 48 terabytes of hard drive storage for long video storage times. Our "EXTREME" NVR provides you with high quality Internet, Cell Phone, Pad, and Smart Phone Viewing.Our "EXTREME" NVR offers the latest and greatest features such as Internet and Cell Phone HD Viewing, motion detection, 24 hour recording, scheduled recording, digital zoom, email motion alerts with digital snapshots, and much more. 

 
Our "EXTREME" Series recorder has 8 hard drive slots for up to 64 terabytes in hard drive capacity.

Installation of our Network Video Recorder is simple. The Quick IP Search function automatically detects CCTVSecurityPros IP Cameras on the network. 
Simply connect the CAT5 cable to your IP Security Cameras.



Our "EXTREME" Network Digital Video Recorder can be configured with the included remote, mouse, or front panel. After initial set-up you can manage NVR functions conveniently over the Internet or Cell. Our Quick Start Guide will enable you will set up all of your initial settings including Internet, Cell Phone Viewing, Camera Quality Adjustments, Motion Detection, Pan Tilt Zoom Camera Control, and more. 



The built in search feature will allow you to quickly find and review the video you are looking for by time and date. Search video according to Time/Date, Alarm, Motion Detect & Exact Search (Accurate to the Second), and Special Smart Search Feature. Video is stored on the NVR hard drive. To save the video you can burn to USB, download via the DVD Burner, or Email video as a file.

There are many options when reviewing the video including: Play, Pause, Stop, Rewind, Fast Play, Slow Play, Next File, Previous File, Next Camera, Previous Camera, Full Screen, Repeat, Shuffle, Backup Selection, and Digital Zoom. You can also record by motion event - meaning video will record only when object is moving. This saves a lot of space on the hard drive.

Connect the EXTREME NVR to any HDMI, VGA, or TV for SPECTACULAR super high definition video quality. It has 8 Alarm Inputs and 3 Relay Outputs.

This NVR can also support other ONVIF protocol IP cameras, meaning you can use other ONVIF cameras from other companies such as Sony, Panasonic and many more. Please see our updated list of approved IP Camera Manufacturer Model Numbers that are SUPPORTED by our NVR.

Max 200Mbps incoming bandwidth
Up to 8 Mp resolution preview & playback

What IS 4K Technology? There has been talk of 4K for years, but it's no longer just something for the tech-minded early adopters. This advancement has properly hit the mainstream in video surveillance. 4K, most commonly known by its UHD (Ultra-High Definition) is a term that also encompasses resolution sizes which offer more pixels than regular HDTV (at least 4 times more pixels). The ultimate result of this increased pixel breakdown is a an image clarity that goes well beyond conventional 1080 pixel HD resolution and presents more vibrant, varied and realistic colors as well as much higher frame rates. 4K outperforms its best HD predecessor by a very wide margin in creating a resolution profile that's two times wider and two times higher than 1080 HD. Screen resolution that's over 4 times larger than HD, thus its name, 4K Ultra HD.


TECHNICAL SPECIFICATIONS
System
Main Processor
Quad-core embedded processor
Operating System
Embedded LINUX
Audio and Video
IP Camera Input
16/32 Channel
Two-way Talk
1 Channel Input, 1 Channel Output, RCA
Display
Interface
1 HDMI, 1 VGA
Resolution
HDMI: 3840x2160, 1920x1080, 1280x1024, 1280x720
VGA: 1920x1080, 1280x1024, 1280x720
Decoding Capacity
2ch@4K 30fps, 8ch@1080P 30fps
Multi-screen Display
16CH: 1/4/8/9/16
32CH: 1/4/8/9/16/25/36
OSD
Camera title, Time, Camera lock, Motion detection, Recording
Recording
Compression
H.265/ H.264
Resolution
8Mp/ 6Mp/ 5MP/ 4MP/ 3MP/ 1080P/ 1.3MP/ 720P etc.
Record Rate
200Mbps
Bit Rate
16Kbps ~ 20Mbps Per Channel
Record Mode
Manual, Schedule (Regular, Continuous), MD (Video detection: Motion Detection, Tampering, Video Loss), Stop
Record Interval
1 ~ 120 min (default: 60 min), Pre-record: 1 ~ 30 sec, Post-record: 10 ~ 300 sec
Video Detection and Alarm
Trigger Events
Recording, PTZ, Tour, Video Push, Email, Snapshot, Buzzer and Screen Tips
Video Detection
Motion Detection, MD Zones: 396 (22 x 18), Video Loss and Tampering
Alarm input
16 Channel
Relay Output
4 Channel
Playback and Backup
Playback
1/4/9/16
Search Mode
Time /Date, MD and Exact Search (accurate to second), Smart search
Playback Function
Play, Pause, Stop, Rewind, Fast play, Slow Play, Next File, Previous File, Next Camera, Previous Camera, Full Screen, Backup Selection, Digital Zoom
Backup Mode
USB Device/Network
Third-party Support
Third-party Support
Arecont Vision, Airlive, AXIS, Canon, Dynacolor, JVC, LG, Panasonic, Pelco, PSIA, Samsung, Sanyo, Sony, Watchnet and more
Network
Interface
2 RJ-45 Ports
PoE
N/A
Network Function
HTTP, HTTPS, TCP/IP, IPv4/IPv6, UPnP, RTSP, UDP, SMTP, NTP, DNS, IP Filter, PPPoE, DDNS, FTP, SNMP, IP Search (Support Dahua IP camera, DVR, NVS, etc.), Easy4ip
Max. User Access
128 users
Smart Phone
iPhone, iPad, Android
Interoperability
ONVIF 2.4, SDK, CGI
Storage
Internal HDD
8 SATA III Ports, Up to 6 TB capacity for each HDD
HDD Mode
Single
Auxiliary Interface
USB
3 ports(2 USB2.0, 1 USB3.0)
RS232
1 Port, for PC Communication and Keyboard
RS485
1 Port, for PTZ Control
Electrical
Power Supply
AC100V ~ 240V, 50 ~ 60 Hz
Power Consumption
< 12W(without HDD)
Environmental
Operating Conditions
-10°C ~ +55°C (+14°F ~ +131°F), 86 ~ 106kpa
Storage Conditions
-20°C ~ +70°C (-4°F ~ +158°F), 0 ~ 90% RH
Construction
Dimensions
2U, 440mm x 450.1mm x 95mm
(17.3" x 17.7" x 3.7")
Net Weight
5.2kg (11.5 lb) (without HDD)
Gross Weight
9.5kg (20.9 lb) (without HDD)
Certifications
CE
EN55032, EN55024, EN50130-4, EN60950-1
FCC
Part 15 Subpart B, ANSI C63.4-2014
UL
UL60950-1
Optional DVR Lockbox with Fan: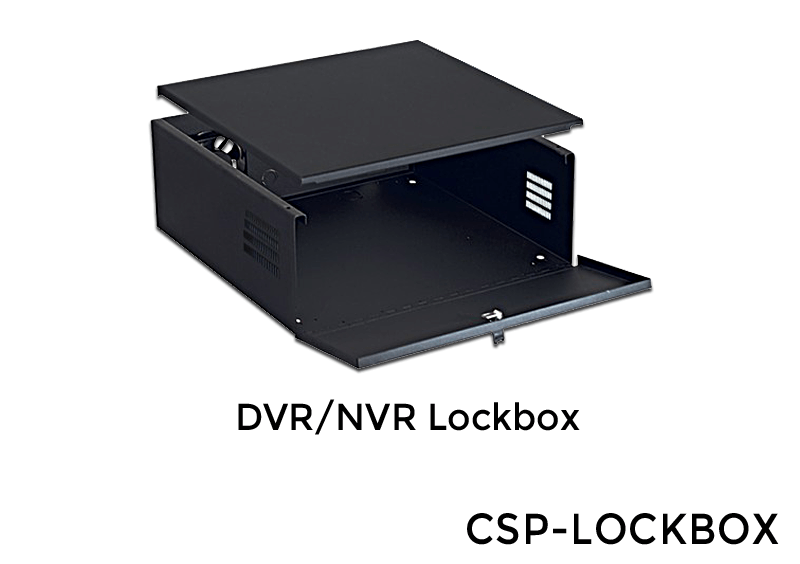 Now that you have a great video recorder from CCTV Security Pros, you need to think about protecting your video recorder from vandalism and theft. After all, the NVR is the "brains" if the security system. It is what stores your valuable data. Some people hide their recorder and some utilize our DVR Lockbox solution.You The USB Fan is connected and powered directly from the USB port on the DVR or NVR unit. The DVR/NVR Lockbox measurements are 24" x 18" x 5". The lockbox is designed to increase the longevity of your unit.
NVR FEATURES
4K Ultra High Definition
External POE Switch (Up to 32 Cameras)
Remote Viewing – No Monthly Fees
H.265 High Video Compression
200 Mbps Incoming Bandwidth
HDMI and VGA Display Output
8 Hard Drive Bays