superior products
3 year warranty
live usa
technical support
30 day money back
guarantee
free shipping
on all orders over $100
Support all your HD Security Cameras in one unit. Our 32 Camera"EXTREME SERIES" Digital Video Recorder / NETWORK Video Recorder supports ALL of our Security Cameras - Standard ANALOG CCTV, HD CVI, TVI, AHD, and IP Security Cameras. It also supports HD-TVI and HD-AHD High Definition BNC Cameras. This Video Recorder comes with 8 hard drive slots, enabling a capacity of 64 Terabytes of storage - months and months of video storage. Plug in your cameras and you will quickly see why our "EXTREME SERIES" DVR/NVR is one of the highest regarded and widely used surveillance recorders in the industry. Comes with a 100% Satisfaction Guarantee, 3 Year Warranty and Free Technical Support.
The Latest H.265 Video Storage Compression
As the security industry continues to evolve and embrace higher definition cameras such as 1080p, 2k, and 4k, storing video has become one of the challenges. Naturally, you want to store as much HD video as required. The latest development in video compression helps you save and archive more video than ever before. H.265 compression is now built into ALL our DVRs and NVRs so you can continue to upgrade your cameras, and not sacrifice space on your hard drive. As good as H.264 was for standard definition resolution and and HD resolutions, its ability to evolve to handle the demands of our latest and greatest high-definition imaging formats, such as 1080p, 2K, and 4K is limited since higher definition cameras stored in H.264 creates a proportionally larger file. H.265 expands on the efficiencies of the H.264 compression standard by generating the highest-quality images in the smallest video file possible. What this means to you is a better quality picture and longer storage due to the small video file size. Our new PRO SERIES DVR release supports your BOTH older analog coax cameras and our new higher definition coax cameras and will provide you longer video storage than the older H.264 compression technology.
INDUSTRY LEADING 32 CHANNEL COMBO HD DVR/NVR!
Shop our "EXTREME SERIES" 32 channel HD DVR/NVR Combo and enjoy the latest in surveillance video technology at CCTV Security Pros. Our hybrid combo NVR/DVR supports all of our security cameras, including our new HD security cameras and the standard analog CCTV, HD TVI, CVI, AHD and IP Security Cameras. This commercial-grade 32 camera combo video recorder comes with 8 hard drive slots, enabling a total storage capacity of 48TB.
Superior Surveillance Recording
Our combo DVR/NVR recorder supports our wide selection of 1080p cameras and features. This digital video recording system supports multi-brand network cameras, including our own CCTV Security Pros range, AXIS, Dahua, Bosch, Arecont Vision, Canon, Panasonic, Sony and more.
With up to 16 channel IP & HD camera synchronous real-time playback, quick smart search and GRID interface, you're assured of the most reliable multi-network monitoring capabilities. Our Combo 32 channel DVR/NVR captures, records and plays back surveillance video in real time. Enjoy great HD video quality for your home or business security applications at the best price.
Features:
Each Channel supports Analog, HD-CVI, HD-TVI, HD-AHD and IP Video Inputs - Mix and Match Camera Types
Supports 1080p Cameras
Internet, Cell, Pads Remote Live Viewing (0 Monthly Fees)
H.264 Dual-stream Video Compression
Simultaneous Video Outputs - 2 HDMI, VGA, and TV Simultaneous Video Output
Up to 16 Channel Synchronous Realtime Playback, GRID interface & Quick Smart Search
Supports Multi-brand Network Cameras: CCTVSecurityPros, Dahua, Arecont Vision,
AXIS, Bosch, Brickcom, Canon, CP Plus, Dynacolor, Honeywell, Panasonic, Pelco,
Samsung, Sanyo, Sony, Videosec, Vivotek and more.
ONVIF Version 2.4 Compliant
3D Intelligent Positioning with PTZ Dome Cameras
Supports 8 SATA Hard Drives - up to 48TB, 4 USB 2.0
Free Phone App Included
Multiple network monitoring: Web viewer, CMS(DSS/Smart PSS)&Smart Phone(DMSS)
2 Year Full Warranty
Order Online Today
If you're searching for the best combo NVR/DVR for your security needs, CCTV Security Pros is excited to offer our valued customers the very best surveillance technology at the most competitive prices. With features like audio recording, live remote internet and cell phone viewing, easy configuration, 24/7 recording, motion and scheduled recording.
Order our 32 channel combo DVR/NVR online today, or Contact us to connect with an expert.
TECHNICAL SPECIFICATIONS
System
Main Processor
Embedded Processor
Operating System
Embedded LINUX
Video and Audio
Analog Camera Input
32 Channel, BNC
HDCVI Camera
5MP, 4MP, 1080P@25/30fps, 720P@50/60fps, 720P@25/30fps
AHD Camera
5MP, 4MP, 1080P@25/30, 720P@25/30fps
TVI Camera
5MP, 4MP, 1080P@25/30, 720P@25/30fps
CVBS Camera
PAL/NTSC
IP Camera Input
32 Channel, each channel up to 8MP
Audio In/Out
16/1, BNC
Two-way Talk
1 Mic In, 1 Mic Out, BNC
Recording
Compression
H.265+/H.265/H.264+/H.264
Resolution
5M-N, 4M-N, 1080P, 1080N, 720P, 960H, D1, CIF
Record Rate
Main stream:the 1st & 2nd channel 5M-N(1~10fps), others 4M-N/1080P(1~15fps); 1080N/720P/960H/ D1/CIF (1~25/30fps)
Sub steram: D1/CIF(1~15fps)
Bit Rate
32Kbps ~ 6144Kbps Per Channel
Record Mode
Manual, Schedule (General, Continuous), MD (Video detection: Motion Detection, Video Loss, Tampering), Alarm, Stop
Record Interval
1 ~ 60 min (default: 60 min), Pre-record: 1 ~ 30 sec, Post-record: 10 ~ 300 sec
Audio Compression
AAC(only for the 1st channel), G.711A, G.711U, PCM
Audio Sample Rate
8KHz, 16 bit Per Channel
Audio Bit Rate
64Kbps Per Channel
Display
Interface
2 HDMI ,1 VGA, 1 TV
Resolution
HDMI 1:3840×2160, 2560×1440, 1920×1080, 1280×1024, 1280×720
HDMI 2 / VGA: 1920×1080, 1280×1024, 1280×7201920×1080, 1280×1024, 1280×720
Multi-screen Display
1/4/8/9/16/25/36
OSD
Camera title, Time, Video loss, Camera lock, Motion detection, Recording
Network
Interface
2 RJ-45 Ports (1000M)
Network Function
HTTP, HTTPS, TCP/IP, IPv4/IPv6, Wi-Fi, 3G/4G, SNMP, UPnP, RTSP, UDP, SMTP, NTP, DHCP, DNS, IP Filter, PPPoE,DDNS, FTP, Alarm Server, P2P,IP Search (Supports Dahua IP camera, DVR, NVS, etc.)
Max. User Access
128 users
Smart Phone
iPhone, iPad, Android
Interoperability
ONVIF 16.12, CGI Conformant
Video Detection and Alarm
Trigger Events
Recording, PTZ, Tour, Video Push, Email, FTP, Snapshot, Buzzer and Screen Tips
Video Detection
Motion Detection, MD Zones: 396 (22 × 18), Video Loss, Tampering and Diagnosis
Alarm input
16
Relay Output
6
Playback and Backup
Playback
1/4/9/16
Search Mode
Time /Date, Alarm, MD and Exact Search (accurate to second)
Playback Function
Play, Pause, Stop, Rewind, Fast play, Slow Play, Next File, Previous File, Next Camera, Previous Camera, Full Screen, Repeat, Shuffle, Backup Selection, Digital Zoom
Backup Mode
USB Device/Network
Storage
Internal HDD
8 SATA Ports, up to 10TB capacity
eSATA
1 Port
Auxiliary Interface
USB
2 USB 2.0, 2 USB 3.0
RS232
1 port, for PC communication & Keyboard
RS485
1 Port, for PTZ Control
RS422
1 Port, for PTZ Control
Electrical
Power Supply
AC100V-240V, 50/60Hz
Power Consumption (Without HDD)
<35W
Construction
Dimensions
2U, 440mm×455mm×95mm (17.3" x 17.9" x 3.7")
Net Weight
7kg (15.4 lb) (without HDD)
Gross Weight
9.8kg (21.6lb)
Installation
Desktop installation/Rack-mounted
Environmental
Operating Conditions
-10°C ~ +55°C (+14°F ~ +131°F), 10%~ 90% RH
Storage Conditions
-20°C ~ +70°C (-4°F ~ +158°F) , 0~ 90% RH
Third-party Support
Third-party Support
Dahua, Arecont Vision, AXIS, Bosch, Brickcom, Canon, CP Plus, Dynacolor, Honeywell, Panasonic, Pelco, Samsung, Sanyo, Sony, Videotec, Vivotek, and more
Certifications
Certifications
FCC: Part 15 Subpart B
CE: CE-LVD: EN 60950-1/IEC 60950-1
CE-EMC: EN 61000-3-2, EN 61000-3-3, EN 55032, EN 50130, EN 55024
UL: UL 60950-1
Optional DVR Lockbox with Fan: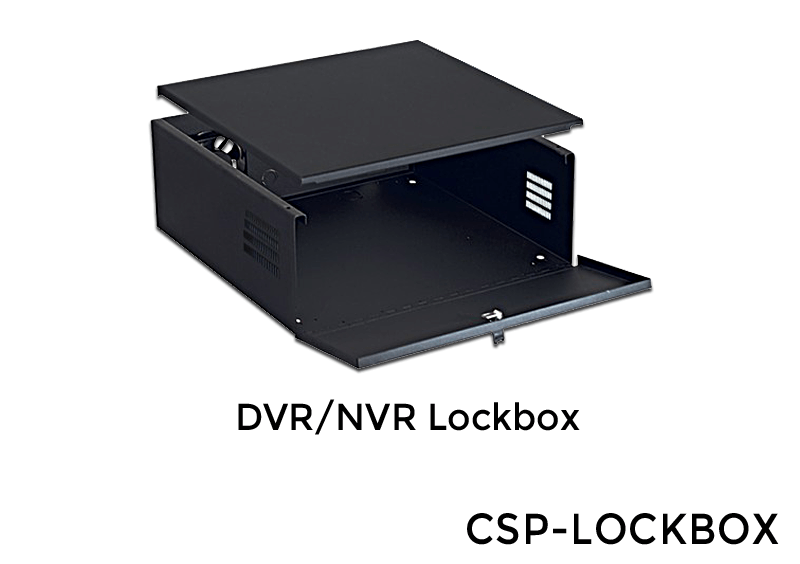 Now that you have a great video recorder from CCTV Security Pros, you need to think about protecting your video recorder from vandalism and theft. After all, the DVR is the "brains" if the security system. It is what stores your valuable data. Some people hide their recorder and some utilize our DVR Lockbox solution.You The USB Fan is connected and powered directly from the USB port on the DVR or NVR unit. The DVR/NVR Lockbox measurements are 24" x 18" x 5". The lockbox is designed to increase the longevity of your unit.


IF USING OUR IP SECURITY CAMERAS -- On our 32 Camera DVR we recommend purchasing a switch to make your installation easier. By plugging the DVR into a switch will enable the IP Cameras (if using IP Cameras) to have POE inputs so you can run one CAT5 cable (power and video in one) -instead of having to run a power supply to each camera.
RECENT TESTIMONIALS

"Great product. I am using my old analog, HD, and IP Cameras on this unit. I will continue to transition to HD and IP as I transition my analog cameras. I am happy I found something compatible with my old cameras. It would have been costly for me to replace them all at once and this way I can replace one at a time."
Sammy J.
2/8/17

"Very good recorder. Using at several of my businesses and will be switching out my others to this product as well."
Charlie H.
2/18/17

"Love it, love it, love it. What a great way to transition my camera system to high definition."
Richard H.
3/12/17

"I was looking around long and hard on the internet for a quality NVR with plenty of storage. I loaded up this NVR with 48 Terabytes of storage. It is working really well and I have months of video storage. I would definitely highly recommend this product."
Ron V.
4/4/17

"Awesome recorder at a great price. Recommend to add additional terabytes in the hard drive. It comes with 1 but if you have more than 4 cameras I recommend more."
Ted H.
5/2/17

"Writing this because I promised Mark. As you know we are using this product to upgrade our current systems. This is the seventh one we have purchased from you and our fast food chains are very happy with the security you provide. I appreciate you going out of your way for me as well. Keep in touch!"
Eddie T.
6/2/17

"This is a great tool for my business. I utilize it daily and it is great to keep an eye on my business when I am not there."
Matt C.
6/8/17

"Great DVR, Great System - than you all very much."
Mike C.
7/2/17

"I appreciate your products and your repeat customer discounts. It is great to work with a company with great products that are loyal to their customers."
Terry M.
8/5/17

"I find this unit to be very user friendly and easy to set up. I just simply plugged my old cameras into it, turned it on and WALA, great picture quality."
Tony B.
9/2/17

"I am very busy these days with business and I was looking for a company with outstanding products. So happy to have found you guys. I love your 32 channel recorder. I have used it in several large applications and my customers are very happy with it. Also good to see you keeping up with current technology."
Vince B.
9/18/17
DVR FEATURES
4K Ultra High Definition
32 BNC Camera Inputs
Supports CVI/TVI/AHD/Analog Cameras up to 5MP
Remote Viewing – No Monthly Fees
H.265 High Video Compression
HDMI and VGA Display Output
8 Hard Drive Bays
Write a Review
Best recorder. I have several different cameras and this supports all of them. Glad I don't need to throw out my old cameras to go to IP. Also service helped me with all the settings and went above and beyond to make sure I had a full understanding of all the different features. Call them - you will see.