superior products
3 year warranty
live usa
technical support
30 day money back
guarantee
free shipping
on all orders over $100
_________________________________
The Latest H.265 Video Storage Compression
As the security industry continues to evolve and embrace higher definition cameras such as 1080p, 2k, and 4k, storing video has become one of the challenges. Naturally, you want to store as much HD video as required. The latest development in video compression helps you save and archive more video than ever before. H.265 compression is now built into ALL our DVRs and NVRs so you can continue to upgrade your cameras, and not sacrifice space on your hard drive. As good as H.264 was for standard definition resolution and and HD resolutions, its ability to evolve to handle the demands of our latest and greatest high-definition imaging formats, such as 1080p, 2K, and 4K is limited since higher definition cameras stored in H.264 creates a proportionally larger file. H.265 expands on the efficiencies of the H.264 compression standard by generating the highest-quality images in the smallest video file possible. What this means to you is a better quality picture and longer storage due to the small video file size. Our new PRO SERIES DVR release supports your BOTH older analog coax cameras and our new higher definition coax cameras and will provide you longer video storage than the older H.264 compression technology.
It is not a crime unless you prove it! High definition video surveillance recorders with help you prove it. Our recorder will be keeping an eye on your assets 24/7 - in both the day and night. When there is motion, our built in software will send you an automatic alert and snapshot to inform you when and where an event is taking place. The system will store your video surveillance video on the included hard drive, so if you need to review or download video, it will be available at your fingertips. You can conveniently monitor your cameras over PC, tablet, and cell phone devices. Our 16 channel digital video recorder is perfect for any high end surveillance application.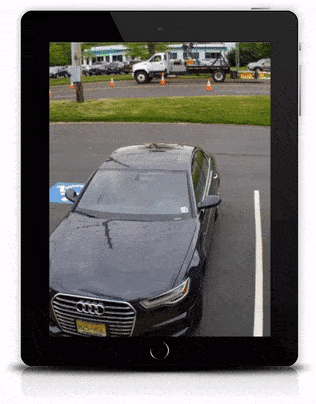 THE ULTIMATE HD DIGITAL VIDEO SURVEILLANCE RECORDER!
Our DVR Recorders enable you to view your cameras live on your PC, Cell Phone, and Tablet with our Remote Viewing Software and Remote Viewing Free App. Our "PRO SERIES" Digital Video Recorder has a simple user friendly interface, making set up with the mouse (included) a breeze. Our "PRO SERIES" DVR allows you to individually customize your settings both live and remotely over the Internet.Easily search your video monitoring by time, date, or event. Program your DVR to do 24/7 recording, motion recording, or record on a schedule. Customize each camera with the click of a mouse.
Our "PRO SERIES" DVR "auto adapting technology" supports several types of surveillance technology.Use older analog BNC (round video connection) security cameras in addition to new HD over coax security cameras to achieve better clarity and zoom recognition than ever before. Record video in Full 1080p with our "PRO SERIES" 16 Channel Recorder.
Your DVR is ready to go out of the box when it gets to you! We install the hard drive for you and test the Digital Video Recorder prior to shipping to you.Simply plug in your cameras and turn on the unit.Use the mouse to program and customize your system and camera settings to your preference.
We back up all our Digital Video Recorders with a Satisfaction Guarantee, 3 Year Warranty, and Free Unlimited USA Technical Support for the life of the unit.

"PRO SERIES" Digital Video Recorder Highlights:


"PRO SERIES" Recorders have 4-1 Auto Adapting Technology (Supports TVI, CVI, AHD & Analog Security Cameras)
Live Free Remote Camera Viewing on PC, tablets, cell phones
Simple and Easy to Use Graphical User Interface
View and Record Up to 4MP Video
2 Built in Hard Drives Slots for Up to 16 TB's of Long Video Storage
High Definition Multimedia and VGA (PC) Simultaneous Monitor Outputs
Central Monitoring to Monitor and Combine Multiple Locations our Businesses
Pan Tilt Zoom Setup and Support
Mouse and Remote Included for Easy Set Up
Quick Start Guides and Live Free USA Tech Support
100% Money Satisfaction Guarantee
3 Year Warranty
"PRO SERIES" DVR - Features & Functions include:
LIVE REMOTE INTERNET, CELL PHONE, and Tablet VIEWING: - Our "PRO SERIES" DVR allows you to monitor your cameras Anytime, Anywhere, and Anyplace! View your Security Cameras on the on the Internet, Cell Phone, and Internet enabled devices. Remote Viewing requires a basic high-speed internet connection. It is Simple, Easy, Safe, and Secure for you to monitor your assets.
24/7 RECORDING, MOTION RECORDING, and SCHEDULED RECORDING: – You decide how you want set up all your settings to record. Save time and hard drive space by recording on motion or schedule. Program your "PRO SERIES" DVR to send an email notification and digital snapshot on cameras when motion occurs.
UP to 4MP 1080p High Definition Real Time Live View ON EVERY CAMERA - No more jumpiness or jerkiness in the video that you may have experienced in the past. This DVR is truely "the best in it's class".
H.264 VIDEO COMPRESSION TECHNOLOGY - Provides OVER to 3x MORE Video Storage than the old MPEG and JPEG DVRs used in the past. What that means to you is longer video storage capacity, enabling you to review video from prior days and/or months. "Cutting Edge" H.264 Technology also provides you with better video quality both live and over the Internet.
COMPATIBILITY - The "PRO SERIES" DVR is compatible with Standard CCTV security cameras and our HD Security Cameras.
DIGITAL ZOOM – Our "PRO SERIES" Digital Video Reorders offer Digital Zoom. This helps you to digitally zoom in on a particular area or object. When you use our new HD Security Cameras you will notice better identification and clarity than ever before.
1 CHANNEL OF AUDIO RECORDING - Record AUDIO on up to 1 Cameras with our "PRO SERIES" DVR by adding our optional microphone.
MULTIPLE SCREEN DISPLAY OPTIONS - View 1 camera, 4 Cameras, 8 Cameras, 16 Cameras, or up 32 Cameras at a time. There are many multiple screen display options (layouts) to view your cameras on the monitor. For example, you may choose to make one camera larger than some of the surrounding cameras on the display screen - even create your own display grids!
SAVE VIDEO TO USB or PC - All of our systems offer multiple recording options in order to save and archive video. Use a USB FLASH DRIVE or email the video to your PC as a file. Send your video direct to authorities as an email attachment.
CENTRAL MONITORING STATION - If you have several businesses or homes, you may want to utilize our built in Central Monitoring Station. CMS enables you to monitor all of your locations on one screen. Monitor up 50 of our DVRs over one IP address.
SIMPLE TO SET UP - Our Digital Video Recorder is simple and easy to set up and view over the Internet and Cell Phone. Each DVR comes with a Mouse, CD, and Quick Start Guide. We also offer simple diagrams and videos on our Technical Support tab. Use the Quick Start Guide to quickly set up your initial system settings on your DVR such as remote viewing, motion detection, email alerts, and more. If you have any questions call us on our 800# and one of our techs will easily walk you through set up.
We stand behind the "PRO SERIES" HD Digital Video Recorder with an INDUSTRY LEADING 3 YEAR FULL WARRANTY!
Technical Specification
System
Main Processor
Embedded Processor
Operating System
Embedded LINUX
Video and Audio
Analog Camera Input
8/16 Channel, BNC
HDCVI Camera
4K, 6MP, 5MP, 4MP, 1080P@25/30fps, 720P@50/60fps, 720P@25/30fps
AHD Camera
5MP, 4MP, 3MP, 1080P@25/30, 720P@25/30fps
TVI Camera
5MP, 4MP, 3MP, 1080P@25/30, 720P@25/30fps
CVBS Camera
PAL/NTSC
IP Camera Input
8+4/16+8 Channel, each channel up to 8MP
Audio In/Out
1/1, RCA
Two-way Talk
Reuse audio in/out, RCA
Recording
Compression
H.265+/H.265/H.264+/H.264
Resolution
4K, 6MP, 5MP, 4MP, 3MP, 4M-N, 1080P, 720P, 960H, D1, CIF
Record Rate
Main stream: 4K(1~7fps); 6MP(1~10fps); 5MP(1~12fps); 4MP/3MP(1~15fps); 4M-N/1080P/720P/960H/D1/CIF(1~25/30fps)
Sub stream:960H(1~15fps); D1/CIF(1~25/30fps)
Bit Rate
32Kbps ~ 6144Kbps Per Channel
Record Mode
Manual, Schedule (General, Continuous), MD (Video detection: Motion Detection, Video Loss, Tampering), Alarm, Stop
Record Interval
1 ~ 60 min (default: 60 min), Pre-record: 1 ~ 30 sec, Post-record: 10 ~ 300 sec
Audio Compression
AAC(only for the 1st channel), G.711A, G.711U, PCM
Audio Sample Rate
8KHz, 16 bit Per Channel
Audio Bit Rate
64Kbps Per Channel
Display
Interface
1 HDMI, 1 VGA
Resolution
HDMI:3840×2160, 2560×1440, 1920×1080, 1280×1024, 1280×720
VGA: 1920×1080, 1280×1024, 1280×720
Multi-screen Display
When IP extension mode not enabled:
8CH: 1/4/8/9
16CH: 1/4/8/9/16
When IP extension mode enabled:
8CH: 1/4/8/9/16
16CH: 1/4/8/9/16/25
OSD
Camera title, Time, Video loss, Camera lock, Motion detection, Recording
Network
Interface
1 RJ-45 Port (1000M)
Network Function
HTTP, HTTPS, TCP/IP, IPv4/IPv6, Wi-Fi, 3G/4G, UPnP, RTSP, UDP, SMTP, NTP, DHCP, DNS, IP Filter, PPPoE,DDNS, FTP, Alarm Server, P2P,IP Search (Supports Dahua IP camera, DVR, NVS, etc.)
Max. User Access
128 users
Smart Phone
iPhone, iPad, Android
Interoperability
ONVIF 16.12, CGI Conformant
Video Detection and Alarm
Trigger Events
Recording, PTZ, Tour, Video Push, Email, FTP, Snapshot, Buzzer and Screen Tips
Video Detection
Motion Detection, MD Zones: 396 (22 × 18), Video Loss,Tampering and Diagnosis
Alarm input
N/A
Relay Output
N/A
Playback and Backup
Playback
8CH: 1/4/9
16CH: 1/4/9/16
Search Mode
Time /Date, Alarm, MD and Exact Search (accurate to second)
Playback Function
Play, Pause, Stop, Rewind, Fast play, Slow Play, Next File, Previous File, Next Camera, Previous Camera, Full Screen, Repeat, Shuffle, Backup Selection, Digital Zoom
Backup Mode
USB Device/Network
Storage
Internal HDD
2 SATA Ports, up to 10TB capacity for each disk
eSATA
N/A
Auxiliary Interface
USB
2 USB Ports (1 USB 2.0 , 1 USB 3.0)
RS232
N/A
RS485
1 Port, for PTZ Control
Electrical
Power Supply
8CH:DC12V/4A
16CH:DC12V/5A
Power Consumption
(without HDD)
8CH: <10W
16CH: <20W
Construction
Device Dimensions
1U, 375mm × 287mm × 53mm (14.8" x 11.3" x 2.1")
Device with PFH101
Rack Mount Tray
483mm x 281mm x 56mm (19.0" x 11.1" x 2.2")
Net Weight
(without HDD)
8CH: 1.5kg (3.3 lb)
16CH: 1.7kg (3.7 lb)
Gross Weight
8CH: 2.9kg (6.4 lb)
16CH: 3.1kg (6.8 lb)
Installation
Desktop installation
Environmental
Operating Conditions
-10°C ~ +55°C (+14°F ~ +131°F), 10% ~ 90% RH
Storage Conditions
-20°C ~ +70°C (-4°F ~ +158°F) , 0~ 90% RH
Third-party Support
Third-party Support
Dahua, Arecont Vision, AXIS, Bosch, Brickcom, Canon, CP Plus, Dynacolor, Honeywell, Panasonic, Pelco, Samsung, Sanyo, Sony, Videotec, Vivotek, and more
Certifications
Certifications
FCC: Part 15 Subpart B
CE: CE-LVD: EN 60950-1/IEC 60950-1
CE-EMC: EN 61000-3-2, EN 61000-3-3, EN 55032, EN 50130, EN 55024
UL: UL 60950-1
Optional DVR Lockbox with Fan:
Now that you have a great video recorder from CCTV Security Pros, you need to think about protecting your video recorder from vandalism and theft. After all, the DVR is the "brains" if the security system. It is what stores your valuable data. Some people hide their recorder and some utilize our DVR Lockbox solution.You The USB Fan is connected and powered directly from the USB port on the DVR or NVR unit. The DVR/NVR Lockbox measurements are 24" x 18" x 5". The lockbox is designed to increase the longevity of your unit.
DVR FEATURES
4K Ultra High Definition
16 BNC Camera Inputs
Supports CVI/TVI/AHD/Analog Cameras
Remote Viewing – No Monthly Fees
H.265 High Video Compression
HDMI and VGA Display Output
2 Hard Drive Bays