How to Pick the Right Surveillance Camera System
Security cameras are one of the most effective ways of protecting your business or property. The camera system you order should be a cost-effective solution that provides the coverage you need.
As a leading direct USA supplier of professional CCTV camera systems, the options we provide include infrared bullet cameras, dome security cameras, PTZ security cameras, hidden security cameras, professional box cameras, and wide-angle dome cameras.
With so many types available to choose from, it can be difficult to determine which ones are best for each situation. See these tips on how to pick a surveillance system for your property, and contact us to speak with a security expert at 888.653.2288.
The Benefits of all CCTV Security Pros Cameras
A high-quality video feed
Easy plug & play setup
Remote access and control from computers and mobile devices
Remote viewing of live and recorded video
Recording modes by schedule or detected motion
Convenient video footage retrieval by detected motion
Mobile alerts of detected motion
3-year warranty and 100% satisfaction guarantee
Experienced USA-based tech support on-call
These are the common features of all of our cameras when connected with a CCTV Security Pros System. The additional capabilities of the cameras you choose to use with your system all build on this foundation of connectivity and access.
Important Considerations for Choosing a Security Camera
Are you satisfied with your current system?
Will you need a new security camera system or a replacement of current parts?
Is your location wired for cameras with cables in place?
How many cameras will you need for comprehensive coverage?
Will you need to add more cameras over time?
What is your budget for securing your building?
The 3 Types of Surveillance Camera Technologies
The first step in picking a surveillance system is to determine which type would be best for your property. IP security systems offer the newest with the greatest capabilities, and connect with CAT5 or CAT6 Ethernet cable. HD over coax camera systems connect with coaxial / BNC cable. Analog systems are the oldest and connect with BNC cable.
Traditional "Analog" High-Resolution Security Systems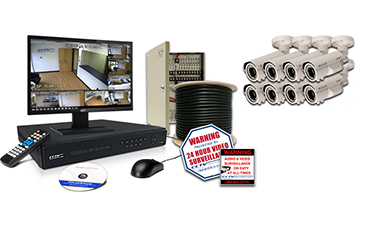 If you have previously purchased an security camera system years ago (with round BNC connections), it's likely that you have a traditional analog surveillance system. Analog security cameras transmit surveillance video over coax cable. A Digital Video Recorder (DVR) converts the analog videos to a digital format, enabling you to view your security cameras remotely over the internet. Our analog camera systems are typically used for homes and business that are pre-wired with BNC cable. With a modern surveillance recorder by CCTV Security Pros, you can sget a professional cctv camera system with all the best modern features.
While analog systems can't be compared to our new range of ultra-HD security cameras, they still produce clear video footage and are widely used in thousands of surveillance applications in residential and commercial sectors. The only shortcoming of the analog cameras is the fact that the digital zoom capability can make images or videos lose clarity due to pixelation.
Our recommended solutions are HIGH DEFINITION systems. HD cameras will deliver sharper images and better digital zoom capability.

HD CVI Security Camera Systems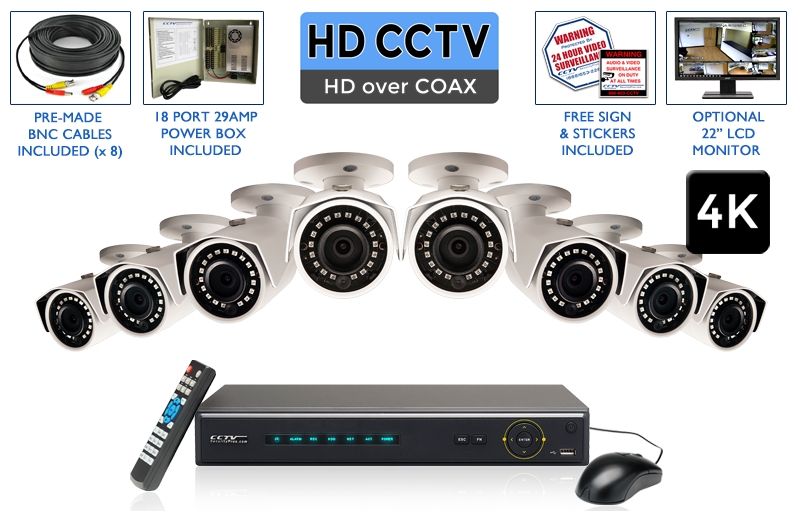 High Definition Composite Video Interface (HD CVI) camera systems operate over the same RG59 Siamese coaxial cable that is used in analog security systems, but deliver superior quality HD surveillance clarity. Most property owners and businesses choose HD surveillance systems for buildings that are pre-wired for them.
You likely don't have to invest in new connection cables if you wish to convert an analog system to and HD system. If you choose to convert, you will get better video quality. HD CVI cameras produce 1080p images up to 4MP.
Better image clarity and zoom makes the identification of faces or objects like car license plates much easier. Additionally, you don't need to run any extra cables for new controllable security cameras like our Pan-Tilt-Zoom cameras or motorized zoom cameras. Installation is simple and straightforward. CCTV Security Pros offers free USA technical support with every camera purchase.
IP Network Security Camera Systems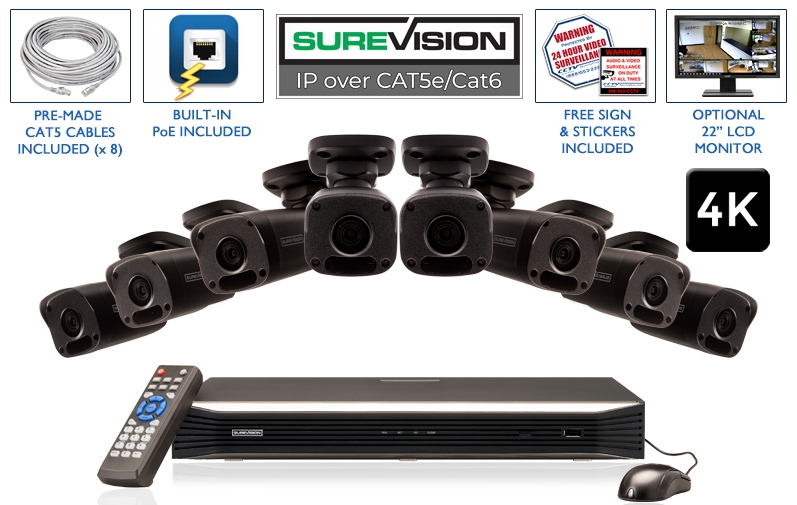 Over the past 10 years, IP cameras have become the most popular surveillance option for businesses and homeowners looking to upgrade to a new surveillance systems. The highest definition IP camera available has an 8-megapixel image sensor capable of recording 4K Ultra HD footage.
IP cameras are powered over their CAT5/6 Ethernet cables through Network Video Recorder (NVR) or an Ethernet switch, so there is no need for having an additional power source. High quality image sensors and simple connections make IP cameras effective and easy to use. As the newest mainstream security camera technology, it's a safe bet that IP cameras and systems will be in use for decades to come.
Making the Right Decision
At CCTV Security Pros, we understand that choosing a security camera to match your needs is not an easy decision to make. That's why we offer professional guidance when it comes to purchasing the right cameras to build your own custom-grade professional cctv camera system. Here are our expert recommendations when buying new security cameras or upgrading your surveillance system:
Opt for high-resolution analog cameras if you're looking for a simple, cost-effective replacement for an existing security camera or recorder. All of our new analog recorders support HD CVI cameras. This means you can easily upgrade from your analog cameras to our HD CVI cameras once you're ready.
Opt for HD Over Coax Cable security cameras if you're looking for the best quality possible when updating an older system that operates over coax cable with BNC connections. While our analog cameras produce quality high-resolution surveillance videos, our new HD technology is superior and delivers sharper images of up to 1080p with great digital zoom capability. All our HD CVI cameras also support analog cameras.
Opt for IP security cameras when you need the best quality possible of any available system, or for a surveillance solution built on the most future-proof technology. While they may be a bit more expensive than the other two camera technologies, they are easier to install and will support cameras of increasingly better quality long down the road.
Your Go-To Security Camera Solutions Partner
We're a leading direct USA supplier of professional cctv camera systems for businesses with over 60,000 satisfied customers, including Fortune 500 companies and government agencies. Our customers appreciate our superior quality products, commercial-grade surveillance solutions, fair pricing, and free tech support based in the USA. CCTV Security Pros is your go-to partner for all security camera solutions.
Need help on how to pick a surveillance camera? Want to know what the best options are for new security cameras? Call us at (888) 653-2288, or contact us online and our professional team will be happy to assist you.
For your convenience, here is a quick chart comparing technologies:
| | Analog Systems | HD CVI Systems | IP Systems |
| --- | --- | --- | --- |
| Ease of install | Easy | Easy | Easy |
| How far cable run per camera | 500 Ft | 1500 Ft | 328 feet, more with Switch or POE Injector |
| Type of wire | Plug and Play / RG-59 | Plug and Play RG-59 | CAT5 Cable |
| Internet Remote Viewing | Yes | Yes | Yes |
| Maximum Definition | 1000 Lines of High Res | 2MP HD up to 1080 | 2MP and MORE |
| High Def or High Res | HR | HD | HD |
| PTZ Control | Additional CAT5 wire needed | No additional wire | No additional wire |
| Easy to Use Recorder | Yes | Yes | Yes |